Opening Reception
Join the opening reception of the exhibit, Saturday, June 19th, 4-7 PM in the lower gallery of New Door Creative in Baltimore, Md. The artist will share insights into his process and work at 5:30 P.M.
Exhibition
The exhibition showcases a collection of paintings, drawings, mixed media, and prints created between 1993 and 2021. It runs June 19th-July 23rd 2021.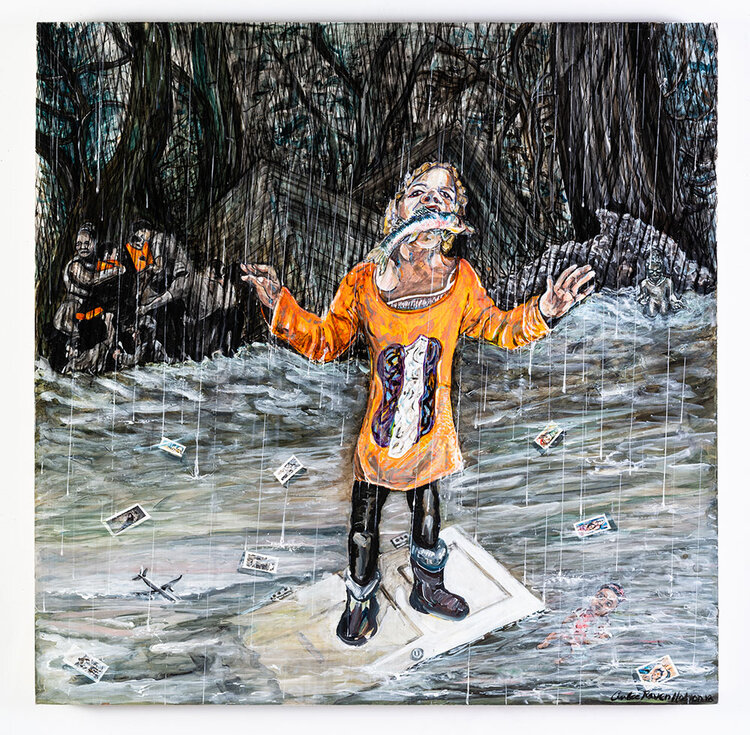 With survival as the central theme, recent works reflect the times of global upending threat. The broader message, however, is one of the tenacity of the human spirit in the face of peril. Holton tells his story with details that are both literal and metaphoric. The depiction of his characters informs the viewer of the psychic space that they occupy, and allude to either a past or future moment that frames this particular manifestation in time.

https://www.newdoorcreative.com/curleeravenholtondeluge
---
If you missed it, on May 2021 Curlee Raven Holton discussed his personal and professional journey to becoming an artist when he delivered the sixth annual APS Distinguished Scholar Lecture. Enjoy a recording of the lecture, Being an Artist, Printmaker and Creative Collaborator here.